Teerachai Steel Corporation Limited
Teerachai Steel Corporation Limited is a professional to cut and import all kinds of steel. The company also represents the company directly from Thai Tinplate MFG Co., Ltd for Electrical Tin Plate (Tin plate) and Tin free for food packaging and general.
TSC also provide cutting steel and aluminum. We supply various sizes to serve high standard cutting requirement for meet the demand of plants can maker, packaging and general.
In addition, the company also imports – Hot Dip-Galvalume, or steel roof and steel framework (Metal Sheet), sheet steel finished wall (Metal Siding) to support the growth of modern construction in the near future as well.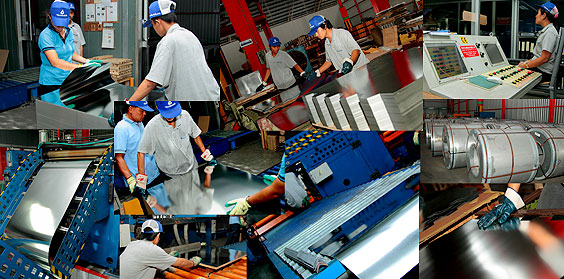 Metal Roofing Materials Thailand, Steel roofing Thailand, Metal siding Thailand, Metal Sheet Thailand, Tin Plate Thailand, Tin Free Thailand, Steel cutting Thailand, Aluminum cutting Thailand